Kent and Brent Singleton have an impressive environmental racing resume. They: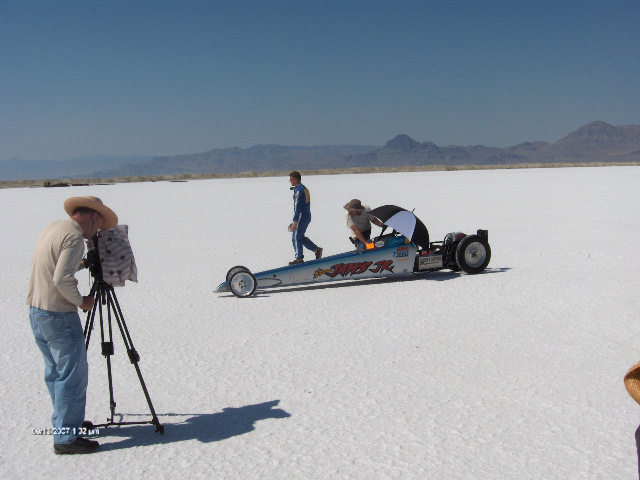 Waiting in the staging area. The videographer to the left is Zach Frankel, an independent film maker. He met the Singletons at the premier of
Who Killed the Electric Car?
. His company is
Ecotainment Productions
. Something neat about this picture is it gives a feel for how vast the Salt Flats are, and helps one realize the Salt Flats are actually a large, seasonally dry lakebed.
The land speed record for E1 vehicles (electric vehicles under 500 kg, or 1100 lbs) is currently only 133 mph, and has been standing for some years. Brigham Young University (BYU) has been rumored to be making an assault on the record. The Singletons thought this was a golden opportunity to try to snatch the record before BYU's entry was ready. They ran their electric Junior Dragster.
The first run was promising, but alas 133 mph was not achieved. They were using tired, 5 year old batteries and might have overheated the motor. It is still very impressive they eventually hit 113 mph, and might still qualify for a record since this is the first under 1100 lbs (500 kg) vehicle to run for the E1 record.